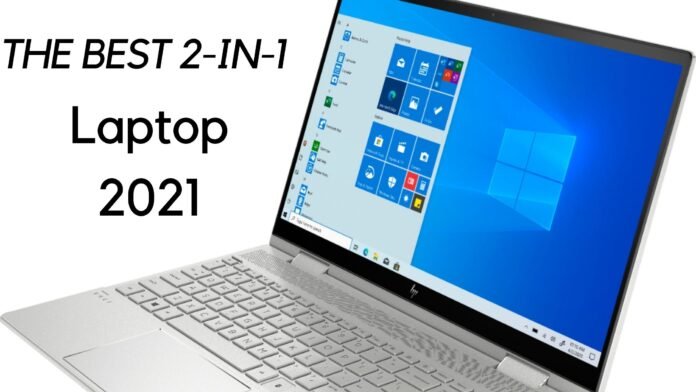 Are you looking for the best convertible laptops that you can use both as a tablet and laptop? You've come to the right place, as today we'll be reviewing some of the best 2-in-1 convertible laptops you can buy in 2021. These 2-in-1 laptops will make you desperate to hinge your laptop to 360 degrees while watching movies or while surfing on the internet. If you love to sketch on your laptop or make handwritten notes, then two in one laptop with a touch screen is ideal for you.
In this post, we've included the best 2-in-1 laptop, including both tablets that can be attached to a keyboard and laptops that can be flipped to 360 degrees. A hybrid laptop with a touchscreen can be more like a tablet than the laptop itself. These still offer amazing features when on laptop mode and are among the most portable laptops you can find.
The Best 2-in-1 Convertible Laptop in 2021
1. HP Envy x360
Talking about the best 2 in 1 Laptop and avoiding HP Envy x360 would be quite unfair. This amazing convertible laptop features a Ryzen 5 4500U CPU capable of providing better performance than Intel Chips of the 10th Generation. Though you won't get a stylus with this Hp Envy x360, it can surely be hinged to 360 degrees and can be utilized in tablet mode.
Moreover, this 13-inch laptop also offers amazing 8GB RAM, 256 GB storage space and can beat laptops over $1000. Last but not the least, 1080p display, aluminium body, and powerful AMD Ryzen Processors make this HP Envy x360 portable laptop more fantastic. You'll also be able to enjoy a comfortable keyboard, especially the content writers.
2. Lenovo IdeaPad Flex 5 14
Another under 700$ 2 in 1 laptop on our list is Lenovo IdeaPad Flex 5 14, featuring a powerful AMD Ryzen 5 4500U processor and 16GB RAM with a sweet 256GB memory drive. Not only this, but the device also offers a Type C USB port and HDMI port. We self have tested this amazing convertible laptop that you can get for only $600 with the performance a lot better than the laptops with this range.
360-degree hinge isn't the only feature to praise; Lenovo IdeaPad Flex 5 also got a smooth and comfortable keyboard with a supremely designed chassis. By hinging this laptop to 360 degrees, you can use it as a tablet, or by hinging to 180 degrees, you can prop the device like a tent. Though the display of the 14-inch screen is a little dull at $600, this IdeaPad is surely worth it.
3. HP Elite Dragonfly 
Are you a travelling professional and looking to buy a 2-in-1 convertible laptop you can easily carry? HP Elite Dragonfly is an ideal option for you because of its portability and powerhouse. It comes with an amazing and compact design mostly demanded by business professionals, featuring a powerful 16 GB RAM and 8th Generation I7 processor with sweet 256 GB storage. Not only this, by getting this 14-inch HP Elite Dragonfly laptop, you get to enjoy a 4K display with supreme speakers and a comfortable keyboard making it a perfect deal.
The best part about this is the convertible feature; you can easily flip your laptop and use it in tablet mode while travelling and enjoy amazing movies without worrying about the battery. This one has long-lasting battery life.
4. Lenovo Yoga 9i
Are you looking to buy a 2-in-1 convertible of Lenovo? You should stop your search process because we are reviewing Lenovo Yoga 9i, i.e., one of the best portable laptops in the market today. After a successful Yoga C940, this model is also becoming a demanding piece because of its improved features, including decent battery life and powerful 11th Generation Intel processor.
You won't be wrong if you call Lenovo Yoga 9i one of the best 2 in 1 laptops at this moment. Among the Yoga series, Lenovo Yoga 9i is the most portable and sleekest laptop you can find with the capability of 360 degrees hinge. The device features 16GB RAM and 512 GB storage. When converted to a tablet, you can watch movies on the 14-inch screen displaying 4k HD video with ease. Some additional features which make it one step ahead of competitors are fingerprint sensor and webcam cover.
5. Acer Spin 5
Last but not the least, Acer Spin 5 makes 5th on our list, being one of the best 2-in-1 convertible laptops in the market at this moment. The features this brand is providing at an affordable price are surely worth praise. It is not only worthy because of the 3:2 display, but it's also offering amazing battery life-giving an extra benefit for the students and travelling professionals. This Acer Spin 5 convertible laptop features an amazing 10th Generation I7 processor with 16 GB RAM and 256 GB SSD storage. If you want to make handwritten notes in the classroom, you can easily flip the laptop to use it as a tablet and write on the screen and enjoy the touchscreen feature.
Final Words
Today we gave our list of the best 2-in-1 convertible laptops you can buy in 2021. After completely analyzing this list, you must ask yourself what type of convertible laptop you are looking for? It can either carry it in class or use while travelling or the laptops for engineering students. Ensure that you get a laptop with a long battery if you're a travelling professional or a student.