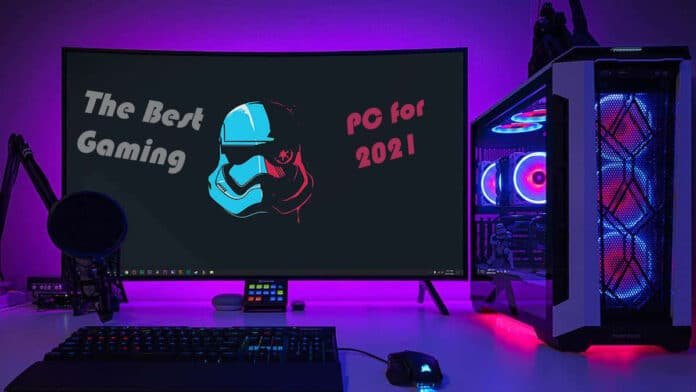 No doubt, Gaming consoles are ruling the whole world lately but that doesn't mean the era of PC gaming has ended. No matter how many gaming consoles come into existence, the gamers are well aware of the fact that they can build the PC with the highest graphics to enjoy supreme quality gameplay. The high graphics are capable enough to run the latest games in HD.
The best part about gaming PC is that it is very affordable, and you can get the best features at half the price of gaming consoles. One thing you'll be glad to hear is that Gaming PCs can easily be built if you know how to operate a screwdriver.
We have done full research and shortlisted the most powerful gaming PC that will be capable to run any latest game with HD graphics. Here are the following Best Gaming PC of 2021
Corsair Vengeance i7200
Corsair Vengeance i7200 is currently one of the most powerful Gaming PC and good enough to be on top of our list. It is a high definition PC with a good price for the features it provides. You can enjoy a 4k gaming experience because of its Core i9 processor and RTX 3080 graphics card.
Pros
Enjoy UHD and 4k gaming experience.
Reasonably Priced.
Top-notch designed.
Excellent RGB lighting.
Cons
The cooling fans create too much disturbance.
The design can be more compact.
Corsair One a100
Corsair One a100 is one of the best gaming PCs you can buy in 2021 if you have a good budget. It provides you mind-blowing performance and an amazing gaming experience you won't forget. It contains a 16 core AMD processor and high-quality Nvidia GeForce RTX 2080 graphics card. The best part about this PC is that it makes literally no noise.
Pros
Brilliant gaming experience.
Creates no disturbance.
Compact design.
It supports WIFI 6
Cons
Unique design will make it difficult to upgrade in the future.
Falcon Northwest Talon
Falcon Northwest Talon is a newly released gaming PC and it has impressed users in a short spell of time. The amazing performance and eye-catching craftsmanship are attracting buyers. It contains Ryzen 9 5950X and the amazingly designed gaming Mid-Tower makes it a great deal for gamers and web-designers.
Pros
Brilliantly crafted
Superior performance
Can be easily customized
It has a warranty of 3 years.
Cons
Expensive for the features it is providing.
Ryzen 9 5950X is too heavy if you are buying only for gaming.
NZXT BLD Starter PC Plus
NZXT BLD Starter PC Plus is designed entirely by outsourcing the parts. After assembling it has become powerful enough to compete with other best gaming PCs of 2021.
Pros
It doesn't create any disturbance.
Reasonable price for the features they are providing.
Brilliantly assembled with top-notch branded parts.
Best gaming experience at 1440p resolution.
It provides a 3-year warranty.
Cons
The case of the PC contains sharp corners.
Interior lighting is missing.
Dell G5 Gaming Desktop
Dell G5 is one of the most versatile gaming desktops you can buy if you want the best gaming experience with a low budget. This PC is amazingly crafted, and the design is compact and fancy. You'll be able to enjoy an HD 60fps gaming experience.
Pros
Speedy processor
High-quality gaming
Pocket friendly
Compact design
RGB lighting in the case
Cons
Front panel isn't as elegant as it should be.
512Gb storage is less and it can be increased.
Alienware Aurora R11
Alienware Aurora R11 is another amazing highly configured gaming PC in the market at this moment with cutting edge components. It has a different design and powerful enough to provide the best gaming experience. The buyers who're willing to spend more can surely put this one on their list.
Pros
Amazing for big spenders
Unique design
Contains Nvidia GeForce RTX 3090 graphics card.
Intel Core i9 Processor
Amazing 4k gaming experience
Cons
Expensive
There are good cheaper alternatives that provide the same features at less price.
After personally using this desktop, we have concluded that these are 6 best Gaming PC you can buy in 2021 as it contains all the features that will surely enhance your gaming experience.