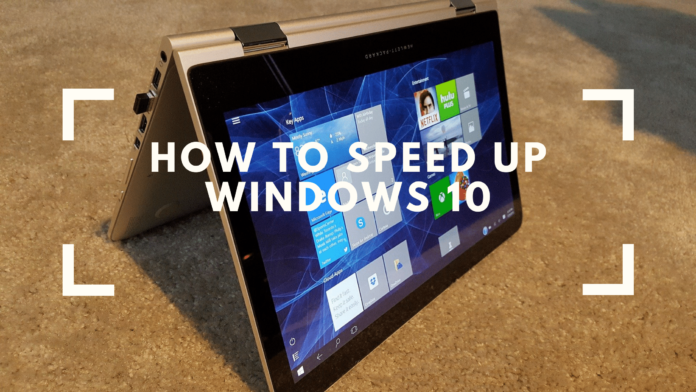 If your Windows does not run fast, your PC's performance may be affected. Your PC may run slow and do not perform properly, and you may become frustrated. Windows 10, the most efficient and advanced operating system in this regard, is considered the game-changer developed by Microsoft. It has remarkably fruitful features to enhance your PC's overall performance but keep in mind that your PC performance may get slower by the passage of time and regular use because Windows 10 requires enormous system resources or may be due to bugs, viruses, or malware. But there is no need to be worried about it because it is not so complicated. This article will help you how to speed up Windows 10 when your PC performance is getting slower.
Ways to Speed up Windows 10
The list of the trusted and the most efficient ways to speed up Windows 10 are given below.
Remove unwanted apps.
Restart your PC.
Check on viruses and other malware.
Update Windows 10.
Close all startup apps.
Avoid the installation of poor-quality apps.
Adjustment of visual effects.
System cleanups
1. Remove Unwanted Apps
Large-sized and unwanted apps are always a burden to your system because they can make your system work slow. Free up space and resources as much as possible by removing unwanted applications no longer in your use. You need to open your device's settings and then go to "Apps & Features", choose the unwanted app, and remove that app by hitting the uninstall button.
2. Restart Your PC
Please do not leave your PC running when you finish your work, because it can affect your PC performance. Save all your work and then shut down your PC every time you use it. Go to the Windows button, then click the "Power" button, and then hit "Shut Down". This is as simple as it looks. This will surely improve your PC's performance.
3. Have a Check on Viruses and Other Malware
If you keep ignoring viruses and other malware that reach your PC, it can cause you severe problems. Not only it can affect your device performance, but it is also a significant threat to your cybersecurity because hackers are always ready to steal your private and financial information. So, to avoid this situation that may come to you, you should always check on such Viruses and Malware. For this purpose, you need to tighten your PC's cybersecurity by installing trustworthy antivirus software that will keep you updated if there is any threat approaching your device.
4. Update the Windows 10
Having an un-updated Windows can also affect the performance of your PC. To have an efficiently running system, you need to fix the bugs that affect your system performance by updating Windows 10. In this regard, Microsoft is always busy looking at how to speed up Windows 10 and releases updates for Windows 10, which help you speed up your system performance. Go to the Windows menu and look for "Update" and then "check for updates" and update the Windows 10.
5. Close All Startup Apps
This is also one of the reasons why the system runs slow. More apps running on startup less the efficiency of your PC to perform well. Yes, this is the thing, so you need to fix this problem to avoid facing troubles during working. Go to the "Task Manager" and proceed to "Startup" and there you will see the startup apps and then Disable the app that you don't want to start automatically.
6. Avoid Installation of Poor-Quality Apps
Installing low-quality apps can also affect your system performance badly because they may contain some malware or have security threats or have a considerable size. Avoid installing apps from websites that are unauthentic and are not secure.
7. Adjustment of Visual Effects
The latest version of Windows 10 has excellent features, including animation and bundles of graphics that are heavy in size and are usually unnecessary. Due to their bulky size, they can slow down your PC's performance, and therefore, you are required to make some adjustments. First, you need to go to the Windows menu and then "system". After that open "Advanced Setting" and click "Performance Settings" and there are the "Visual Effects" you can disable the unnecessary visual effects.
8. System Cleanups
For maintaining, defragmenting the hard drive, cleaning, and scanning your system, you don't need to go to the third party because Windows 10 has all these features in itself and works superbly. You need to open the "Control Panel" and then "System and security" and then click "Security and maintenance", and there you will find the system cleanups.
Conclusion
We have discussed some ways to help you speed up Windows 10 on your PC. You should always remember these ways whenever you are working on your PC and apply them to speed up Windows 10.