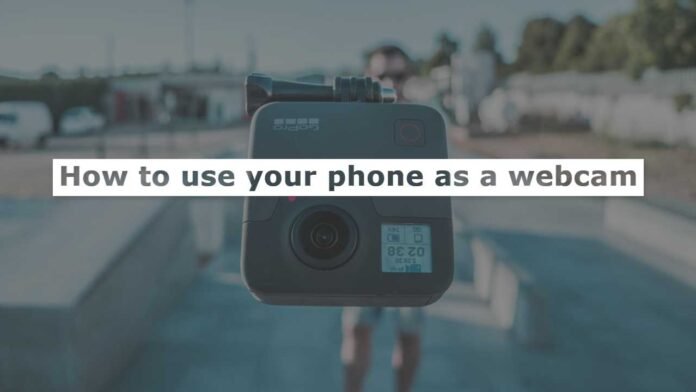 Nowadays, we see our phones as more than just phones; they are generally used as all-in-one devices. Whether it's for reading, watching, or simply using it as a flashlight, it is generally the first thing most people reach for when using technology. However, there are many other uses for this piece of tech that most people don't know about, and one such case is turning your smartphone into a webcam. There is no need to carry around separate devices to provide these functions because today, even today's smartphones have them available. Below are several ways on how you can turn your phone into a webcam.
If you want to test out your new "phone webcam", you can head over to devicetests.com to take a webcam test.
1) Use an OTG Cable
Using an OTG cable allows you to connect your phone with any USB webcam and view the live stream on your phone. OTG cables are extremely cheap and can be bought from any local or online market for as low as $1. They usually come in a pack of three to five, depending on the brand and specifications.
One end of the cable is plugged into an open USB slot on your PC, while the other end has a USB connector that you must insert into your smartphone (make sure it's inserted firmly). You can now access all webcam apps available on Google Play directly using this method.
2) Use Phone Cast
Phone cast is one of the most popular options among android users who want to turn their smartphones into webcams; it does not require root! All you need to do is use your phone's local hotspot and connect your PC to it. Once connected, go to Phone Cast in the Google play store and follow the instructions provided on the interface. This app will show you a list of all available cameras from which you can choose depending on the type of webcam connected to your computer.
3) IP Webcam
IP webcam is a cross-platform application that works brilliantly in turning a smartphone into a webcam. There are three versions available: IP Webcam for Windows, IP Webcam for Mac, and IP WebCam HD for iOS, which can be used on PCs or Macs, respectively. You must have VLC installed on your PC before you install IP Webcam since it uses it as its default video player when the webcam is set up.
4) USB Webcam
USB webcams are also an option if you do not own a smartphone; all you need to do is use the same instructions provided in number 3 and select your USB webcam instead of an IP camera. You can check out this link for detailed instructions.
5) Use Google Drive or Dropbox
If your PC does not support any other apps mentioned above while both your phone and PC have access to the internet, all you have to do is create a hotspot on your mobile device and connect it to your computer using an OTG cable. Once connected, open Google Drive or Dropbox on both devices so that they share their data directly. This will allow you to view a live video feed from your webcam on your PC via these apps.
6) Use Skype
If you frequently use Skype to video chat with your friends, family, or clients, you can also use the existing application and its features to turn it into a web camera. All you need to do is open the app, go to "settings," and click on "Video calling." You should choose any webcam available from the list for this purpose.
7) CamTwist
Using CamTwist will allow you to stream live videos directly from your smartphone's camera through either Twitch or UStream. It is an amazing application that works great for online game streaming and other tasks that require recording software. This app has just received major updates, including filters, multiple video sources, and quality options.
8) Rylstim Screen Recorder
Rylstim is an amazing app that lets you record your smartphone's screen activity in real-time. It does not require any other apps running in the background since it can capture raw data directly from your phone, which is why there are no lags when streaming. The application also comes with customizable settings to suit your needs, including setting a custom camera, defining fps, or using a camcorder profile for recording at high resolutions.
9) Google Hangouts
Google hangouts have integrated webcam support, so all you have to do is enable this feature in the "Hangout Settings" menu. Then go to settings > Video calling > switch it on.
10) XSplit
XSplit is another great app that lets you live stream video content from your device directly to an online gaming platform or social media network. You can use this application for free or paid webcasting, and it does not require any other apps in the background.
11) Mobizen Screen Recorder & Mirror
Mobizen is one of the few screen recording applications available for Android devices with live streaming features built-in. It allows users to record their screen activity in real-time, so all you need to do is go through its settings and choose a webcam as your camera source before clicking the "Start" button. The best thing about this app (apart from creating high-quality videos, of course!) is that it supports almost every device running on Android 4.4 or higher without lags.
12) Joyoshare Video Capture
Joyoshare is a mobile screen recorder for iOS users who want to live stream video content from their devices directly through UStream or Twitch. Before using this application, you must have a high-speed internet connection with at least 200kbps upload speed since it records videos in HD quality (720p). It also comes with many other exciting features like camera effects, editing options, and sharing capabilities.
13) Mobile Protector 2
Mobile protector is an amazing app that allows you to turn your smartphone into a webcam within minutes. All you need to do is plug your phone into the computer using USB data transfer cables, then open the software and choose your device as the camera source. Mobile protector will instantly detect the phone and start streaming video to the desired destination. Any program or service can be compatible with webcams, including Skype, Google Hangouts, and even OBS.
14) AZ Screen Recorder
AZ screen recorder is one of my personal favorites. This app allows users to record their screen activity in real-time without requiring any wires or other devices plugged into their smartphones. The best thing about this app is that you can pause a recording session at any time then resume later, which makes it perfect for live streaming purposes. Still, you must have Android 4.4 KitKat running on your smartphone before using this application since it supports only that version or higher.
Conclusion:
If you have a smartphone, your phone can be used as a webcam. This is easy to save money on expensive webcams and other fancy gadgets if all you need for video conferencing purposes is just the basics.