Yes, it is true. Moto G8 is optimized for its cost, even compared to its earlier family member G7. If you are seeking a budget-friendly smartphone, then Moto G8 might be your most probable choice.
With its lowered price, you cannot expect it to amuse you with some extraordinary features that other highly-priced smartphones offer you. Though with lower price, the features it offers are worth spending your budget for an affordable mobile like this.
Speaking about its screen, it has a large size display. Still, it does not offer you a resolution that might satisfy you, especially if you are a big fan of watching high-quality movies or playing high-definition video games.
Further, it has three cameras to give you a balanced experience (balanced — because the quality of its camera is not as good as other top-notch smartphones in the market). However, compared with the price that it affords you, these camera features won't disappoint you.
Moto G8 Release Date
Moto G8 was released in March 2020 and went in the market sooner to be landed in its users' hands. But this applies only to the standard model; if we talk about other handsets of the Moto G8 family, we might not be able to predict their exact release date. This is because the company released its products one after the other at different times.
Moto G8 Price
There is a surprising fact about the price of the Moto G8. Moto G8 comes at a substantially lower price compared to its lower family member, Moto G7. Moto G7 at the time of its release was USD299, whereas its upper variant, Moto G8, costs you around $220, which is relatively lower.
If we make the cost versus specifications analysis, Moto G8 lacks some aspects for its specs. For example, Moto G8 has a little weaker screen, but its lower price can easily cover this lack.
Display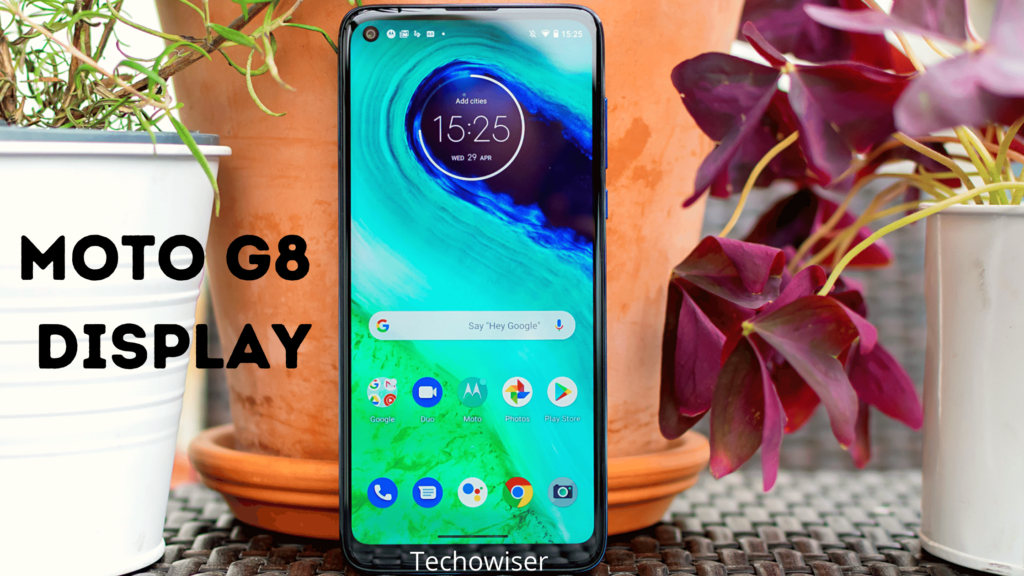 The phone comes in with a 6.4-inch large display that is 0.2 inches larger than Moto G7. The large size of the screen is quite impressive. That is, this size is reserved for cell phones of mid-range and above level.
The screen has a camera at its top left corner. The camera is not so good that you think it might impress you with its perfect selfies. However, you can take make video calls and take selfies meant for purposes other than uploading on your social media platforms or to impress your mates.
Talking about its screen-resolution, you might get a little disappointed here. It comes with a 720 x 1560 screen resolution; this is lower than the one G7 has. G7 comes with a screen resolution of 1080 x 2270. It might be the primary reason for its lower price value compared with G7. So, if you are a big fan of watching high-quality videos, this phone is not for you. However, if you need a pocket-friendly cell phone for simple tasks, it is a big go for you.
Design
Moto G8 comes in a plastic frame, so it might not intimidate you like other top-notch phones do while holding them in your hands. But it is quite an affordable phone, so comparing it with them might not be a good option here.
The phone's dimensions are 161.3 x 75.8 x 9 mm. It makes this mobile quite a large one. If you have smaller hands than most females, you might have a hard time getting handy with this set.
But this large size allows sufficient space for a battery and a larger screen, making the battery last longer and allowing the screen for a larger display size.
The phone has a fingerprint on its backside, which is quite apparent. It allows you to quickly unlock while holding it in hand, but you will not be able to do so when placed on a table.
The primary camera on its backside on the top left corner, slightly popping out of the frame. But, there is one thing to notice, the camera does not pop out so much, even compared to some high-end cell phones.
Motorola released this model in just two colors: one being Capri Blue, while the other one, White Prism. The company didn't opt for black color as it fascinates most customers, or the pink or red color, as some of the females prefer these colors. However, with a limited choice, it gets easier for you to opt for one.
The phone's top edge houses a 3.5 mm audio jack if you prefer to listen to phone calls or music on wired headphones. The bottom edge has a USB Type-C slot for charger or USB, and a small speaker lies on the side to it.
Camera
There lies a camera to the left of the fingerprint scanner on the backside of the mobile. You cannot compare its camera with top-quality smartphones in the market. However, its camera justifies the cost of the mobile.
The primary camera is 16 MP, f/.7 wide, and it works with a second camera, 8 MP, f/2.2, to give you an enhanced picture when you zoom in for the capture.
Though it works well when zoomed in to capture a shot, blurring cannot be noticed until you zoom much and take a distance shot. Furthermore, its lightning effects try their best to give you a clear and enhanced picture.
The camera works pretty well in the daylight, but you might not get impressed with the quality of its shots when it is low light. But it is relatively better than other handsets that come at this price.
It also has a 2 MP macro camera that isn't quite good in quality and has little resolution. Therefore we opt not to use it quite often. Also, there is one thing to note here that the camera takes a while between the shots. Keeping in view this drawback, you might miss the quick shot that you want to capture sometimes.
The camera has no stabilization technology, so you might not be able to capture impressive videos. However, a professional hand might able to do the task.
Other Specifications
Moto G8 comes with a built-in Qualcomm Snapdragon 665 chipset and 4 GB of RAM. It is quite an impressive feature for mobile in this price range. It can run almost all the applications that other benchmark phones do and afford to let you install heavy games, like even Call of Duty Mobile. However, the game does not run smoothly on this handset.
It carries a total of 64 GB of memory that runs out shortly, and you might need a memory card to back up your mobile's space. It comes with Android 10 software and keeps updating for every latest software update. You might not worry about software for at least a couple of years after buying this phone.
There is an exciting feature of gesture control installed on the device. So, you may use these gestures to open the camera or ask your cell phone to perform other tasks via your gestures. Moto G8 doesn't have NFC functionality, which means you will not be able to pay online via Google Pay.
Moto G8 Battery
The mobile comes with a 4000mAh battery, which is quite a reasonable size. The battery life is quite impressive. It lasts for a full day, even if you are using the device more often. Further, the battery even lasts for more than 24 hours, but in this case, you would need to put it on charge in the middle of the day.
You might be able to use this phone for over two days if you don't use your cell more often and regularly use it. You can charge the battery by its USB-C slot located at the bottom edge. Plus, there is no wireless option to change it, but you might not get this option on a phone priced near or even higher than this one.
[i2pc pros_icon="icon icon-thumbs-up" cons_icon="icon icon-thumbs-down" show_title="false" title="Pros & Cons" show_button="false" pros_title="Recommended if:" cons_title="Not Recommended if:" ][i2pros]You want a cheap mobile
You want durable battery life
You use wired headphones[/i2pros][i2cons]You use online mobile payments
You want an optimized camera
You are a fan of high-resolution videos[/i2cons][/i2pc]