Do you love the enormous and engaging display screen on your laptop? Buying the best 17-inch laptop will be perfect for you if you want to enhance the experience of photographing, filmmaking, gaming, and other multimedia experiences.
People don't prefer large-screen laptops much because of not being portable enough to carry. They are more than happy in purchasing 13-inch laptops and 15-inch laptops. Still, suppose you are willing to maximize productivity while streaming your favourite movies and tv shows. In that case, the best large-screen laptops are what you should go for.
There is an enormous number of best 17-inch laptops in the market, making it difficult for the buyers to choose the most suitable one as per their demands. To do half of the job for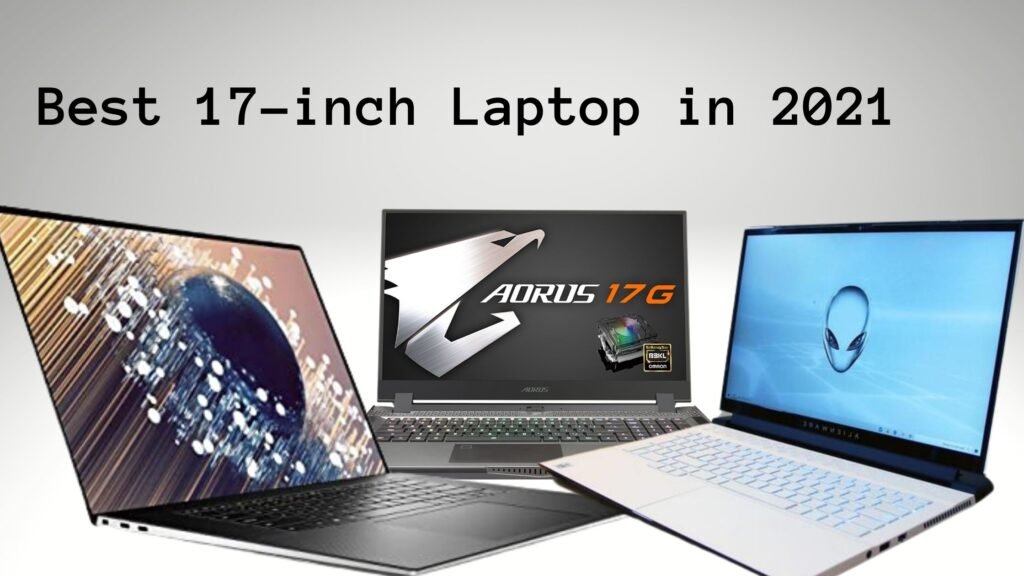 you, we have compiled some of the best large-screen laptops that will help you in your search process while choosing your desired 17-inch laptop.
The Best 17-inch Laptop in 2021
1. Dell XPS 17
Are you looking for a large screen laptop with portability not being compromised? Dell XPS 17 is the ideal laptop for you and one of the best 17-inch laptops you can buy at the given price. This laptop has everything Dell XPS 13 and XPS 15 had except the increase in size. Please don't misinterpret that portability is compromised because it is a portable laptop featuring an Intel Core i7 processor with 32 GB RAM and 2TB fast storage. Not only this, but the device also offers Nvidia GeForce RTX 2060 graphic cards to enhance your gaming experience.
If you feel tired of gaming and wish to listen to your favourite songs on a high pitch, then you'll be glad to hear that your wish will come true because of the Quad Speaker setup. Don't worry about the battery life while doing this all because it has an amazing battery of 9 hours.
2. Acer Nitro 5
Are you looking for the best cheap 17-inch laptops? Here is the answer to your search query. Acer Nitro 5 17.3 is one of the best portable large-screen laptops that you can get for just around 700$. It not only features an excellent GTX 1650 Ti GPU, but it also offers an amazing 10th Gen Intel I5 processor with 8GB RAM and 512 GB SSD storage that makes your games run efficiently without any lag.
The best part about this device is that it offers a 17-inch screen that is perfect for users who favour big screens. Even with the huge screen display, the device doesn't compromise portability. Last but not least, this device comes with an amazing keyboard and a good battery life.
3. Alienware m17 R3
The best 17-inch laptop with all the gaming features is hard to find in the market but don't worry, we've brought an amazing device for you. This Alienware M17 R3 laptop is ideal for mainstream gamers, featuring a 10th Gen Intel Core i7 processor along with a powerful Nvidia GeForce RTX 2070 Graphic card to enhance your gaming experience and to make it lag-free.
This is not only it, the device also offers an amazing 64GB RAM along with 2 TB SSD storage and an amazing battery life of 9 hours. It won't be an overstatement to say that this is the most overclockable 17-inch laptop in the market today.
4. LG Gram 17
This surprisingly portable LG Gram 17 inch portable laptop was one of the most demanding laptops in the market before Dell XPS 17 came into existence. This laptop weighs just around 3 pounds, i.e. less than 15-inch laptops. This elegant and compact device features an Intel Core i7 processor along with Intel Iris plus GPU.
Not only this, but you also get to enjoy 16 GB RAM and 512 GB SSD storage along with an amazing display of 2560*1600. The bright panel is something that should be praised about. The only thing that lacks is small battery life and mediocre performance.
5. Gigabyte Aorus 17G
Looking for a newly launched hardware will vintage laptop feeling? Gigabyte Aorus 17G is the device for you with a 300Hz refresh rate and an incredible smooth keyboard. These are not everything to cherish, the Gigabyte Aorus 17G also features an amazing 10th Gen I7 processor along with a powerful Nvidia GeForce RTX 3000 Series that provides amazing gaming performance same as a desktop PC.
RTX 3000 series is capable to run any latest graphic intensive game with ease. The device also contains 64GB RAM and 512GB SSD storage, along with a 17-inch display screen delivering an FHD display. It also has an amazing battery life, so you don't have to worry about charging again and again. Apart from the heaviness of this laptop, it is one of the best 17-inch laptops in the market to buy in 2021.
Final Words
Before searching for your best 17-inch laptop, make your mind that what features you want in it. The most important things you must look at in your 17-inch laptop are Specs, CPU, RAM, Graphics, and Screen Resolution. Today we have compiled a list of some of the best 17-inch laptops and gave information about their portability. This list will help you pick your desired laptop with ease.