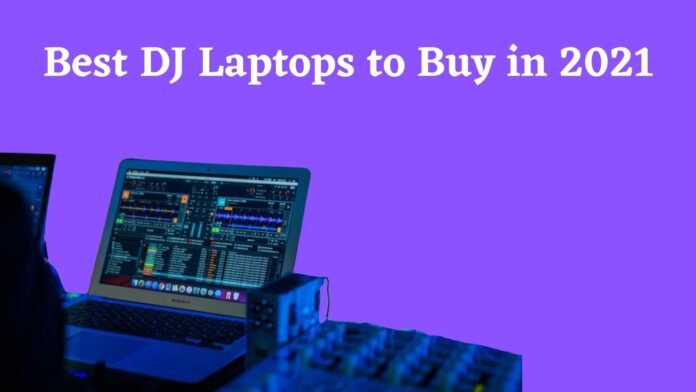 Are you a DJ or music producer and looking for a laptop that is specially designed for music production? There are some of the factors that differ in the Best laptop for djing and other laptops. When you are in search of the best laptop for music production, there are certain things that must be in it including a powerful processor to run a digital audio workstation without lagging, an efficient and fast RAM that can complete all tasks quickly, and huge storage space with the hard drive so that you can store music production videos.
Apart from that you also need your laptop to be lightweight and portable so that you can even take it on the stage or carry it wherever you want. Last but not the least, the battery life should be good enough so that you need to be near the power supply every time you are producing a video.
To save your time and effort, we've compiled a list of the best laptops for DJs along with their specs, features, pros, and cons so that it makes the job easier for you while you pick your desired laptop.
Best Laptops for DJs in 2021
1.   Apple MacBook Retina Display
If you are a music producer and looking to buy a laptop for this very purpose, then this 12 Apple MacBook with amazing retina display and surprisingly portable and lightweight is ideal for you. The device features an efficient Dual-Core Intel processor along with 8GB RAM and 256 GB SSD storage. The machine also comes with the latest Bluetooth setup along with a USB C port. The battery is this efficient that once fully charged, you don't have to worry about charging it again for a whole day thanks to terraced battery cells.
When you're using this Apple MacBook Retina display, you don't have to worry about heating up while Djing because it consumes only 5 Watts of power. It is one of the best laptops for music production due to the powerful RAM, processor, and surprisingly long battery life.
2.   Razor Blade 15 Studio Edition
If you're in search of a versatile laptop that can provide both a gaming and music-producing experience, then you must blindly purchase this Razor Blade 15 Studio edition because it is the best DJ Laptop. The device is packed with an Intel Core 8th Gen I7 processor along with 32 GB RAM and 1TB SSD storage.
To enhance the gaming and multimedia experience, it also contains NVIDIA GeForce GTX 1060 with OLED 4k Touch. Razor Blade 15 Studio is also available for Djing. The visual touches with RGB lighting on the keyboard must be praised. This 15-inch powerhouse is surely worth it if you're buying it for the purpose of music production.
3.   Microsoft Surface Pro 7
For a music producer, what better can be than 2 in 1 laptop that can be used in tablet mode too. Yes, you heard it right, Microsoft Surface Pro 7 is an amazing laptop featuring a 10th Gen Intel Core i7 processor along with Intel UHD graphics to boost the Djing experience. Apart from these it also contains up to 16 GB RAM and fast 1TB storage so that the musicians get full freedom to store as many playlists and videos as they want. It also offers WIFI 6 connectivity and a USB C port. The portability makes it easy for music producers and DJs to take this laptop on road or on the stage.
4.   Lenovo Yoga Book
If you are a beginner DJ, then this Lenovo Yoga Book is a decent option for you having a fantastic battery life of around 15 hours that gives you the freedom to carry it all around the city without worrying about charging. Apart from that, it has a feature of a 350-degree hinge which makes it easier to watch and listen to music videos in tablet mode. This also makes your device portable and easy to carry in your bags. The android option is also beneficial for the DJs as they can download some amazing Djing apps.
5.   Dell XPS 15
If you are in search of the best laptop for Djing and Music production then there is no chance you can avoid this Intel Core I7 Dell XPS 15 laptop containing a 10750H processor, 1TB hard drive, 32GB ram, and a choice of adding NVIDIA GTX 1650Ti graphics card. This laptop comes with the perks of amazing battery life, supreme display, and satisfying performance. Dell XPS 15 contains a 10th generation recently launched Intel processor which is ideal for developing models.
The 15-inch screen of this laptop is capable to deliver 4k HD resolution that can't be found in any other competitor laptops. Apart from the eye-catching display, it also offers high pixel density for enhanced and sharp visuals. Last but not the least, the laptop will come with a supreme cooling system that will keep your laptop away from extra heating, and also with excellent speakers and HD webcam. These all factors are more than enough to be bought if you are a DJ.
Final Words
There are so many factors to look at before buying a laptop for music production. It all depends on if you're a beginner DJ or a mainstream one because this will change your decision-making while buying the laptop. There are many decent laptops in the market that can play a vital role in Djing, and we have compiled a list of some of the best laptops for DJ that will help you in your search process.