Are you looking for a windows 10 touchscreen laptop? The responsiveness of the best touchscreen laptops must be praised because of its delicate touches and swipes. On the best touchscreen laptop, you can also use a digital pen instead of fingers which can also be soothing for your eyes thanks to vibrant colors.
The best cheap touch screen laptops take you far away from the hectic of touchpad and keyboard and deliver you the best interactive display experience. You'll get to enjoy the fun and perks of the amazing experience which can get with fingers and hand gestures. You won't be able to enjoy this experience on a non-touch laptop.
There are different ways in which this laptop can prove its worth on daily basis, for instance when you're reading through notes and zooming it through your fingers, or when you're writing down handwritten notes. The latest laptops coming into the market have focused on device accuracy and did a lot of advancements. Before buying a touch screen laptop you should keep one thing in mind that the battery time would be low compared to non-touchscreen laptops. Today we have compiled a review of some of the best Touch screen laptops you can buy in 2021 along with their pros and cons.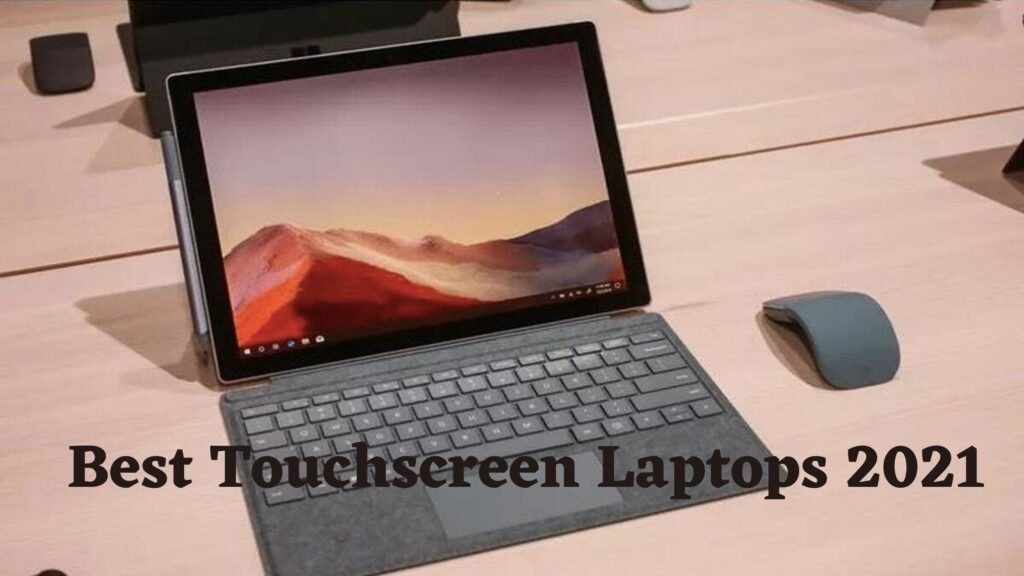 Best Touchscreen Laptops in 2021
1)   Google Pixelbook Go
If you're looking for a touchscreen Chromebook at an affordable price then this Google Pixelbook Go is one of the most versatile and efficient laptops you can find at a pocket-friendly price. This amazing device is featuring a powerful Intel Core I3 to I7 processor along with 8GB to 16GB RAM and 256 GB SSD storage.
The people who used to complain that Chromebook doesn't have enough storage space would be happy to hear about this laptop's SSD storage. You can enjoy watching movies on a 13.3-inch display delivering 4K HD print. This versatile laptop contains 360 degrees hinge feature that means you can flip your laptop and use it in tablet mode. Google Pixelbook Go is one of the best touchscreen laptops not only because of the immense power but because of the amazing battery life of 12 hours.
2)   HP Spectre x360
Are you looking for a touch screen 2 in 1 laptop? 14-inch HP Spectre x360 has everything a person wishes to have in his touchscreen laptop. The attractive device features a powerful Intel Core i7 processor and it weighs just 3 pounds. The device also features USB Type C and Thunderbolt USB ports. The OLED model is capable to deliver vivid colors, but we recommend you turn off the OLED model as it will drink your battery up. Lastly, it features a comfortable and responsive keyword that enhances the typing experience and makes this HP Spectre one step ahead of its competitors.
3)    Microsoft Surface Pro 7
Talking about the best touchscreen laptops and avoiding Microsoft Surface Pro 7 isn't right at all as it is one of the most demanding 2-in-1 laptops currently featuring the 10th Generation I7 Intel processor along with 16GB RAM and sweet 1TB SSD storage making it an immensely powerful laptop.
If you're willing to get the top windows 10 device then this one is just for you having a 12.3-inch display screen delivering UHD quality. The device also comes with a USB type A and Type C port along with a Surface connect port and headphone jack. Though the battery life of the Microsoft Surface Pro 7 is slightly less than Pro 6 due to its UHD display and fast processor.
4)  Asus Chromebook Flip C434
Are you low on budget and looking for the best touchscreen laptop with an option to convert into a tablet? Asus Chromebook Flip C434 is an ideal device for you featuring Intel Core m3-8100Y Processor along with 4GB RAM and 64GB eMMC storage space. Thanks to thin bezels, you'll get to see a larger 14-inch display screen delivering 1080p quality.
The touchscreen is responsive to touches and swipes with an Android option through which you can download as many apps you want. The best part is the 360-degree hinge that can be locked when you're about to rotate to use it in tablet mode. Though touchscreen laptops lack a good battery life, you can use them for a whole day which makes them amazing to carry while traveling.
5)  Razer Blade 15 Studio Edition
If you believe in power over price, then this Razer Blade 15 Studio Edition is what you should go for. It is featuring an 8th Gen Intel Core i7 powerful processor along with NVIDIA GeForce GTX 1060 to enhance the gaming experience. Apart from that Razer Blade 15 comes with 32 GB RAM and 1 TB SSD storage makes this laptop the most powerful one especially for games, videographers, and music producers.
Not only the power but this laptop is also praised for its 15.6 inches 4K OLED touch display making it amazing for video editors to use their fingers while editing. If you're looking for a gaming experience with a bit of designing element in a touch screen laptop then you must go for this one.
Final Words
Mostly touch screen laptops come with 2 in 1 feature in which you can flip your laptop to 360 degrees and use it in tablet mode. Few things you must look for while buying a touchscreen laptop are the battery life because it is a mediocre one in some laptops and storage space which can be low as compared to normal laptops. Today we compiled a list of some of the best touch screen laptops you can buy in 2021 to make the job easier for you.