Many people are looking for easy methods to exact audio from video. Sometimes, you need to extract a part of the background sound from a funny short video and use it later when you edit a new video. You can learn a foreign language better by extracting the audio from foreign movies and listen to the native speakers. You can also extract MP3 from a large MP4 video to reduce the file size and save some memory space, etc. Read this article and you choose different tools to easily convert video to MP3 audio in high quality.
#1. Use MiniTool Freeware to Extract Audio from MP4
MiniTool MovieMaker is a reliable, completely free software that helps you to quickly extract audio from MP4 on Windows computers. Using this free video editing software, you can convert MP4 to MP3 or other video formats. 
MiniTool freeware comes with other video editing features, for example, add/remove audio tracks, add video transitions, add video filters and text, and use your favorite photos and songs to make slideshows, etc. You can use the free video templates to easily edit holiday videos, make memorable videos of your love story, and so on. 
With this video editing software, you will find it is easier than you imagine to extract audio from MP4 videos or videos in other formats. Download this lightweight, free audio extractor, then follow the instructions to install the software, and launch it. MiniTool MovieMaker keeps things simple. You only need to take 2 steps to extract audio from MP4 videos on Windows 10/8/7.
Step 1. Import your MP4 video file stored on the PC.
Click the white Import Media Files button to load an MP4 video file from your local computer. When the file loading is completed, drag and drop that MP4 video to the timeline (refer to this image).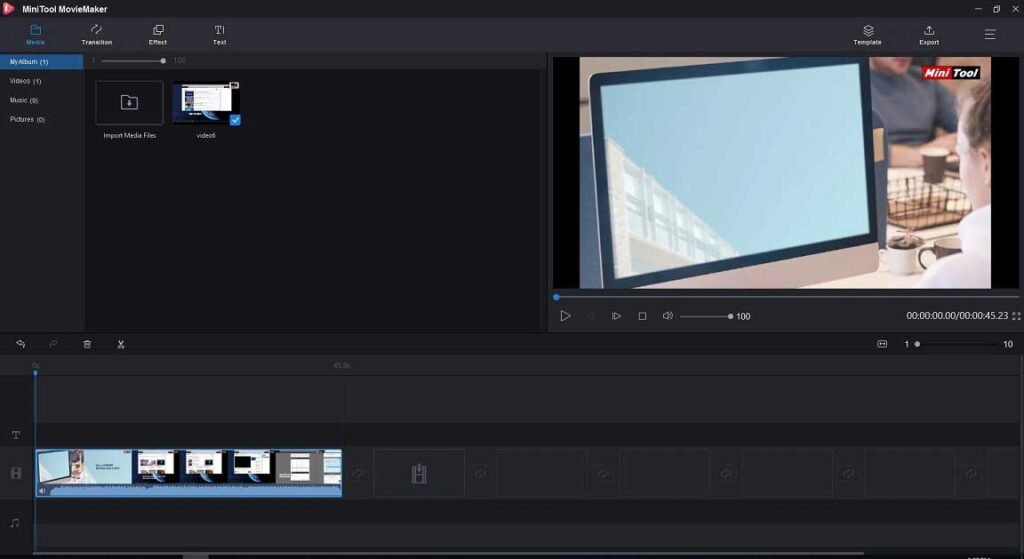 Tip : MiniTool free software also supports extracting audio from .MOV, .AVI, .MPEG, and .MKV videos etc. 
Step 2. At last, click the white Export button in the upper right corner to get the audio file.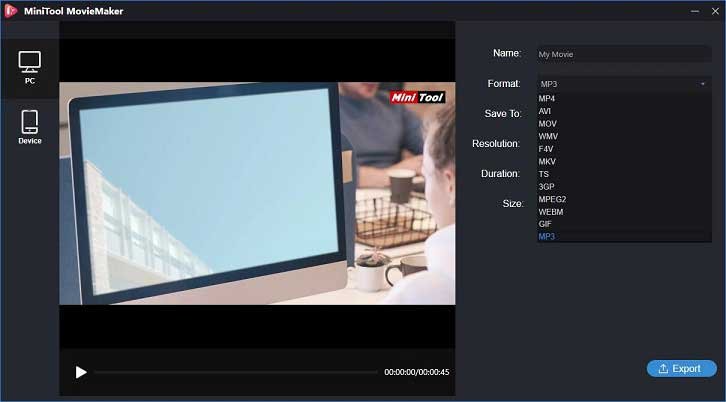 In this step, you will see different options for the output file. To extract MP3 from the MP4 video, choose MP3, and hit on the blue Export button at the bottom. The software will start the audio extraction straightway.
#2. Extract Audio from Video Using Online Tools
If you do not want to install or download audio extractor tools on your computer, you could try online tools to extract audio from MP4. Some single-purpose online audio extractor tools are free to use, some require you to sign up on their websites. Take Online Audio Converter as an example, accepts various video file formats, and the process of extracting audio from video is smooth. Please read the following instructions to extract sound from videos online.
Step 1. Head to the https://online-audio-converter.com/ website, click the big Open files button, then select an MP4 video that is stored on your computer.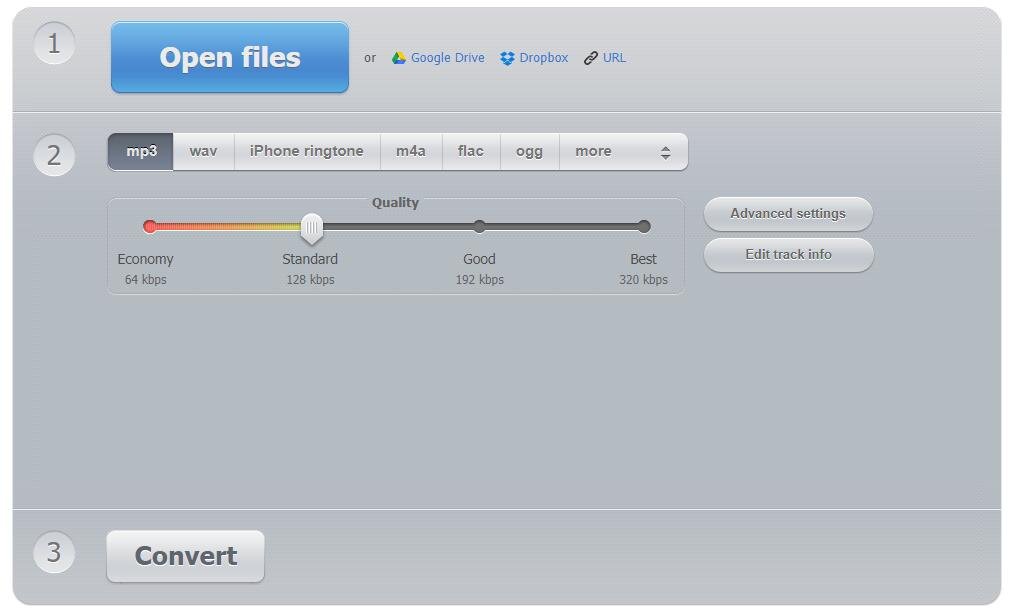 (Please pay attention that it does not accept super large videos because the maximum single file size that you can upload to the website is 2048 MB.)
Step 2.  This online audio extractor will automatically choose MP3 as the output format by default, meaning that you only need to click the Extract Audio option and wait patiently for this online tool to extract audio from video. If you prefer to convert MP4 video to other audio formats, such as M4A, OGG, FLAC format or save the video as an iPhone ringtone, you can manually choose another sound option.
Step 3. Click the "Download" button when you see the audio extraction is finished.
#3. Extract Audio from MP4 with Audacity Audio Editor
Audacity is a free, digital audio software to record and edit sound. This freeware has been available for years on Windows, macOS, Linux, and GNU platforms. You can use this program to easily extract audio from MP4. Extracting sound is not a complicated task, here is how to do it.
Step 1: Download the Audacity installer version from the official website, and install it on your computer.
Step 2: Import your video and choose the audio format you need.
Click the File button at the top → then click Open to import an .MP4 file from your local computer.
Now click File → choose the Export option, from there you can see many options (see the picture below), Export as OGG, Export as MP3, Export as WAV, decide which format you need.
 Specify a destination folder in which to save the audio file, enter a file name. (In this step, you can also set the bit rate and quality for the audio file).
Finally, hit on the Save button and wait patiently till Audacity software completes the audio extracting.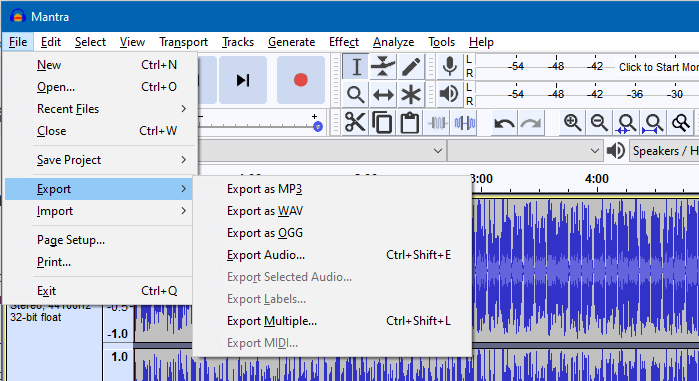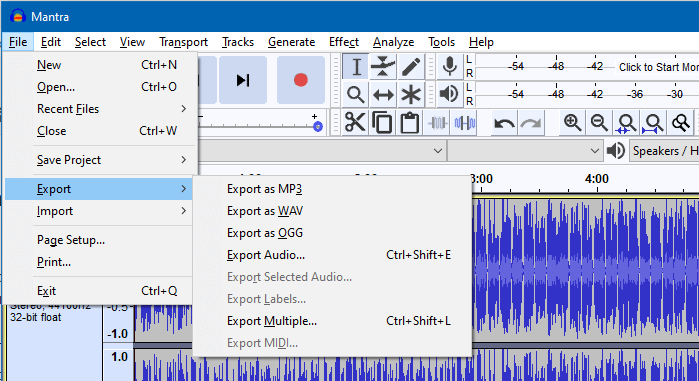 #4. Extract Audio from MP4 Video Using VLC Player
If you did not know VLC media player can extract audio from videos, you have come to the right place. The following steps will help you know how to use VLC to convert MP4 video to MP3.
Step 1: Download VLC on your computer( compatible with Microsoft Windows, Mac OS X, and Linux), install the program and open it. Click the "Media" button on the top → choose "Convert/Save".
Step 2. Select the sound format you need and begin to extract audio from MP4 video.
Select your desired output file format from the "Profile" settings, for example, Audio – MP3, Audio – Vorbis (OGG), and Audio -FLAC.
Click the Destination and browse a destination folder, enter a new file name so you can identify the output sound file later → click Save, at last, click the Start button for VLC to extract audio from the MP4 file.